The bombing of the Boston Marathon has shaken me. As a lifelong Bay Stater, it was painful to see my city hurt in such a way. To make a difficult time even more difficult, I was thousands of miles away- on another continent- and worrying about friends and family. Every newspaper cover had pictures of the bombing (some quite graphic) and all the news stories revolved around it. I found myself looking for familiar faces in the pictures, afraid of what I'd find. Cell phones were shut off in the city to prevent detonation of more bombs, so it was difficult to reach people for a few hours. Fortunately, everyone I know was safe and sound- although many people I know were in attendance, and some of the hurt are friends of friends. Sean Collier, the police officer at MIT that was killed, graduated from the same University I received my Master's degree at, around the same time I did. His funeral tribute was fitting of his courage and his ultimate sacrifice.
Marathon day is always held on Patriot's Day, a Massachusetts holiday which commemorates the
Battle of Lexington and Concord
, the first battle of the Revolutionary War. All state offices, including schools, are closed, so it is the perfect time to hold a large event like the marathon. The Red Sox hold an early game, and many people watch them play before heading to the finish line to watch people complete the race. Many teachers and students from my district were there to enjoy the warm spring day.
Although I didn't know it until I came back to school this week, 2 members of my teaching team were right there when it happened. One was in a bar down the street, and escaped by running down the same alley way the suspect ran down. Another was volunteering for the Red Cross at mile marker 25, and spent her day helping runners get food, shelter, and transportation home.
So, for the past week I have counted my blessings. I am shaken, but not broken. I will continue to live my life, and do the best I can do help the people affected through fundraisers and events. Our track team has already started selling bracelets to benefit the
One Fund
, and I've got myself a sweet new shirt (proceeds to the One Fund, of course!):
Just a day after the bombing, this moving version of the National Anthem happened at the Bruins Game.
Stephen Colbert summed it up best:
Look, before we begin, I just want to take a moment to talk about the attack in Boston yesterday. Obviously our thoughts and our prayers are with everybody there. And as the President said, we don't know who did this, but they will be found and they will be brought to justice.

But whoever did this, obviously did not know s*** about the people of Boston—because nothing these terrorists do is going to shake them. For Pete's sake, Boston was founded by the Pilgrims, a people so tough they had to buckle their hats on. It is the cradle of the American Revolution—a city that withstood an 86-year losing streak; a city that made it through the Big Dig, a construction project that backed up traffic for 16 years! There are commuters just getting home now. Even their bands are tough. It's the hometown of Aerosmith who, in their fifth decade, are still going strong. Even Steven Tyler looks fantastic— for a 73-year-old woman.

But here's what these cowards really don't get: They attacked the Boston Marathon, an event celebrating people who run 26 miles – on their day off until their nipples are raw – for fun. And they have been holding it in Boston since 1897. And do you know how tough you have to be to run in a whale-bone corset? And when those bombs went off there were runners, who, after finishing a marathon, kept running for another two miles to the hospital to donate blood.

So, here's what I know: These maniacs may have tried to make life bad for the people of Boston, but all they could ever do, is show just how good those people are.
Watch the video of it here: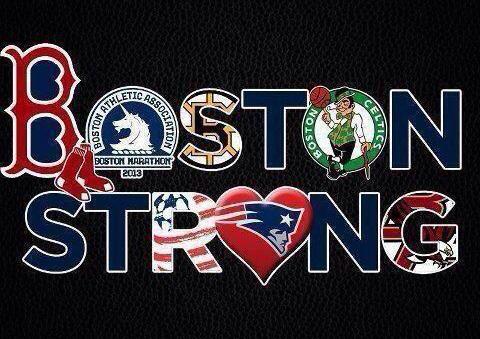 Several bloggers have gotten together to make a Peace, Love, and kindness linky, to share the "warm and fuzzy" moments. So, despite how difficult these past couple weeks again, this is my warm and fuzzy. I have been overwhelmed and awed by the kindness of strangers to those affected, and inspired by how caring people have been. I could go on for hours about the things that have moved me, but I will leave it with this. While Watertown was on lock down, a family with 2 small children ran out of milk. A police officer learned of this, and went and purchased the family milk.
So, in the midst of putting his life on the line to protect citizens from a terrorist, this man found the time to help give comfort to the children he was protecting. Incredibly heart warming.