I had such a fantastic day today. Seriously- it was great. The lessons I planned went off without a hitch, my kids were engaged and learning, and behavior was spectacular. Seriously- even my lunch tasted better than usual! It was the kind of day that leaves a smile on your face until you get into bed. :) Just had to share the happiness.
I hope you all have a spectacular day, too. :)
I saw this linky and LOVED it! I just had to link up with my bloggy friend, Where the
Wild Things Are
for "
A Day Our Way
."
My day *actually* starts around 7 or so usually with before school prep. Then, if I have duty that begins at 8:05. Then, the fun begins. :)
8:30 - 8:45 - Homeroom. Here, my kiddos unpack, get ready for the day, and do some morning work. Lots of this time is spent just settling in, usually.
8:45 -9:30 - Specials/my prep. The kids rotate through library, technology, music, art, and gym.
9:30 - 10:10 - Writing Workshop. Although I'd like to have my reading and writing as one big literacy block, I teach an integrated section of reading. A special ed. teacher pushes in for the following block, so we have to divide them up. C'est la vie. We spend our time in workshop doing mini-lessons, conferencing, and working in various stages of the writing process.
10:10 - 10:15 - Agenda books & snack. Fifth grade is a big year in my district- the kids get their very first district issued agenda books. Every day I write in one book on the ELMO and the kids copy it down. The goal is to get them used to writing down all their own assignments in an agenda book before they go off to the middle school next year, where they are expected to copy down all their assignments in each class on their own.
10:15 - 11:00 - Reader's Workshop. Minilessons, independent reading, and guided reading. I really love guided reading- so this is a lot of fun for me! It's just so much fun to see kids who are really interested in a book. Their reactions and the conversations we have are phenomenal.
11:00 - 12:25 - Social Studies. That seems like such a long block! However, it's not just for my kiddos. We switch classes for science and social studies, and decided to try a block schedule this year. Every other day, my kiddos head off to science and I teach another class social studies. During this time, we read from our textbook, participate in some guided reading of social studies books, and work on projects.
12:25 - 1:05 - lunch & recess!
1:05 - 1:25 - whole group math lesson. This is my "teacher centered" teaching for math. We watch an instructional video from our textbook series and do some guided practice. Usually, we correct our homework during this time, also.
1:25 - 2:25 - Guided Math. I talked a bit about my
guided math a bit before
(also called math workshop). I've tweaked a few things, but the basics of the format are the same. I meet with my kiddos each day in small groups to work through some problems so I can really see where they are doing well and where they are struggling. They also play a math game, do independent practice, and do a "teacher choice" task (usually math facts or review of a previous topic).
2:25 - 2:45 - homeroom & busses called. My little darlings use this time to clean the room, do their classroom jobs, and socialize (of course). Walkers are dismissed at 2:45.
So, there you have it- that's my day!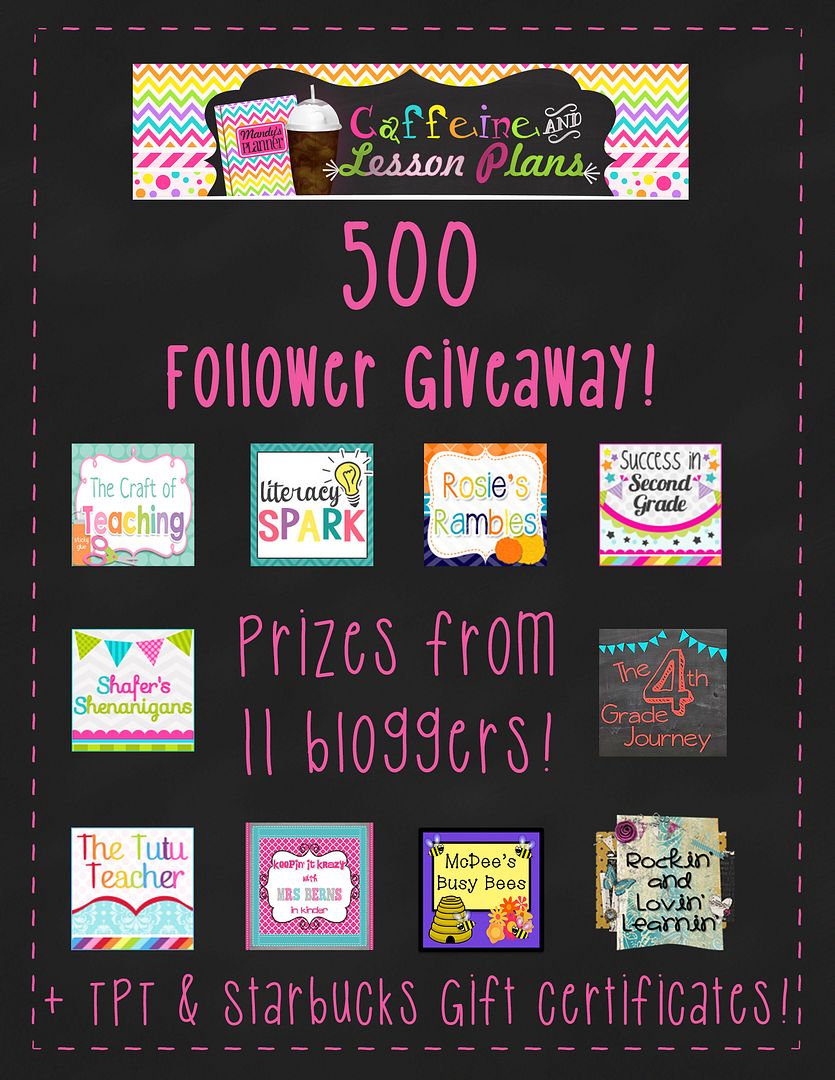 Don't forget about
my 500 follower giveaway
! A few more days left to
enter
.